Sutherlands in South Australia located 12 kilometres (7.5 mi) east of Eudunda, in the Regional Council of Goyder. At the 2006 census, Sutherlands and the surrounding area had a population of 307.
Once the centre of a thriving farming community and shopping centre, today as with most small towns Sutherlands main attraction and meeting place is the Sutherlands Hotel, well worth a stop on a hot day, where there is a lovely landscaped courtyard/pergola area at the back of the pub.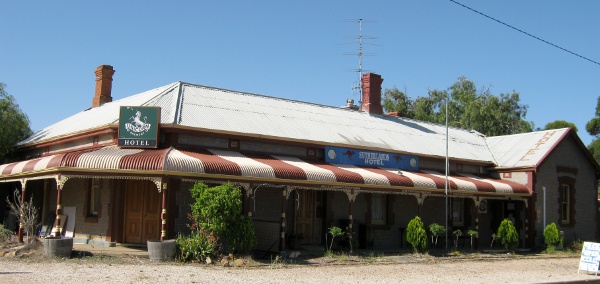 Sutherlands is lucky to currently have all remaining houses occupied and still have many families living throughout the district.
Formerly serviced by the busy Eudunda – Morgan railway line, access is gained via the Thiele Highway from Eudunda to Morgan on a well maintained bitumen road.
Check out the weather forecast in the Sutherlands area.
Sutherlands in the 1920's – In the year 2000 we are proud to announce that this award winning web site, designed by Samantha and Elizabeth Stanford is now being hosted here at eudunda.net, and will be linked from this ECBAT web site and the Eudunda Heritage Gallery. Samantha & Elizabeth (SES) were the Lower Secondary – State Winners of the Australian Schools Web Challenge with this web site.
Unfortunately since 2000 software has changed and the graphical version is now unable to be viewed, but there is still a wealth of information in the TEXT version. Please use the text version.