Please help by submitting information for us to put here.
Businesses in Point Pass thrived in it's heyday – saddlers, carpenters, blacksmiths, upholsterers, cheese and butter factory, even a watchmaker. One business that continues today is the local hotel, whose doors were opened in 1876. The original stone stables, with mellow walls two feet thick are part of the complex.
Travelers between Eudunda and Point Pass, may well notice the Lutheran Church with it's gold painted domed roof, and the old Lutheran Boarding College, at one time it was B&B accommodation.
Stop at Point Pass, view the old buildings and check out the pioneer memorial at the Southern edge of the town.
You can camp at the:
Point Pass Oval Camping Area,
Power, Toilets, Cold Shower, Nearby Hotel for meals.
Ring for bookings & keys;
Di Heinrich 08 8581 1226 or 0409 930 386
Point Pass Hotel 08 8581 1556.
and check out the Signage about the history of the once famous "Point Pass Speedway" which was active on this site.
The Lavender Federation Trail was a Loop Trail here, to the main trail which is in the Hills to the West.
This trail is 14 Km and you can find out more about it on Map 5 (You can purchase these maps at either Eudunda and Robertstown)
Details on the Lavender Trail Website
A real delight is to drop in to the Point Pass Hotel for a meal or just a quick thirst stopper.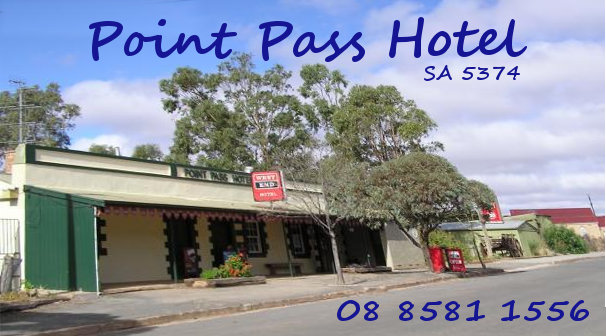 More details about what they offer and times they are open can be found here
You will find a great article with on ABC Open
"Peak Hour Traffic at Point Pass" by local photographic enthusiast Robyn Bradbrook