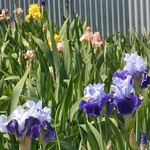 Call for Registrations for 'Open Gardens' in our region of Eudunda, Robertstown and surrounds are being organized at the moment.
We will be working with the Burra/Hallet Gardens to create a great area to visit.
The dates are October 3rd & 4th.
If you think you have a nice garden that you would like to show others or you know someone else who does,
please contact Peter Herriman 088 1200 540 or 0429 811 958.
Eudunda does have one participant who has yearly 'Opened their Garden' to the public,
that is of course Betty & Ron Gray who have a massive Tall Bearded Iris display.
Theirs is a great Fundraising event for the Eudunda Hospital Auxiliary,
The 'Open Iris Weekend' will be on again this year on the 17th & 18th October 2015.
Tourists come by the bus-loads, car and walk to view Betty & Ron Gray's magnificent collection of  over 1200 Tall Bearded Iris (this varies each year).
If you are unable to work with the 3rd & 4th October maybe the 17th & 18th October would suit you (and support the Open Iris Weekend).
Join in and make this a great community event, as if you don't have a garden to open – go along to some of those who have.