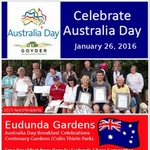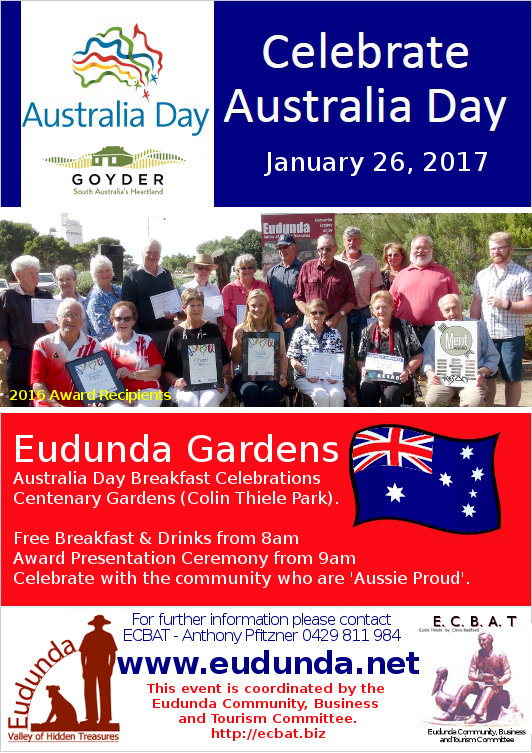 ---
Eudunda & Robertstown have a proud history of participation in the
Australia Day Breakfast and Community Awards.
Breakfast includes eggs and bacon, sausages, pancakes, fresh fruit platters, orange juice and champagne, tea & coffee. Everything Free.
For Eudunda the following awards will be announced.
Eudunda KESAB Tidy Town Awards
Best Community Project
Christmas Lights Displays
Best Presented Property for Residents over 70
Most Improved Residential Property
Best Community Grounds
Best Presented Business Premises
Best presented Garden
Best Presented Property for 2015
Australia Day Awards
Young Citizen of the Year
Event of the Year
Citizen of the Year
Come and celebrate the successes of the Town and the District.
---
Mon 26th Jan  2015- 08:00am
Eudunda Australia Day Breakfast Celebrations
Eudunda Centenary Gardens (Colin Thiele Park)
Free Breakfast and Award Presentations
put on by Eudunda Community, Business & Tourism (ECBAT)
Award Presentations approx 9am.
in 2015 Eudunda has an extra award to celebrate
as the township has again been awards
The 'Best Community in the Mid North 2014'
The award will be presented to the town at the breakfast.

See below for Robertstown 2015 details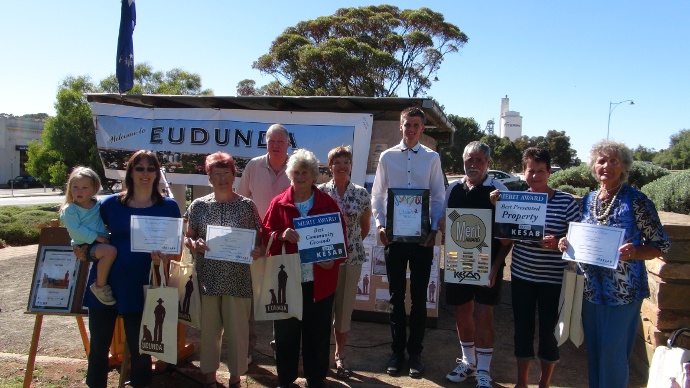 It is always a great event, put on by the Eudunda Community, Business & Tourism Committee (ECBAT)
FREE BREAKFAST 
Award presentations
 – – – – – – – – – – – – – – – – – – –
 Mon 26th Jan – 08:00am
Robertstown Australia Day Breakfast Celebrations
Robertstown Oval
Free Breakast and Award Presentations
put on by the Robertstown Community Management Committee (info thanks to Robby Roundup for this info)
 – – – – – – – – – – – – – – – – – – –
The Regional Council of Goyder has a list of previous award winners,

Check it out here.