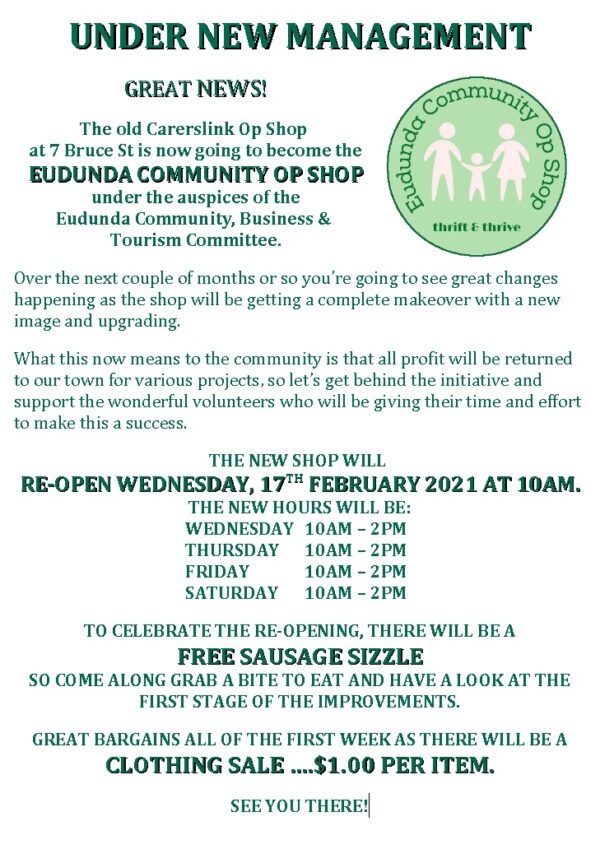 RE-OPEN WEDNESDAY, 17TH FEB 2021 
AT 10AM.
TO CELEBRATE THE RE-OPENING,
THERE WILL BE A
FREE SAUSAGE SIZZLE
SO COME ALONG GRAB A BITE TO EAT AND HAVE A LOOK AT THE FIRST STAGE OF THE IMPROVEMENTS.
GREAT BARGAINS ALL OF THE FIRST WEEK AS THERE WILL BE A CLOTHING SALE ….$1.00 PER ITEM.
The old Carers' Link Op Shop at 7 Bruce Street, Eudunda is now going to become the Eudunda Community Op Shop, under the auspices of the Eudunda Community, Business & Tourism Committee (ECBAT).
Over the next couple of months or so you're going to see great changes happening as the shop will be getting a complete makeover with a new image and upgrading.
What this now means to the community is that all profit will be returned to our town for various projects, so lets get behind the initiative and support the wonderful volunteers who will be giving their time and effort to make this a success.
HOURS WILL BE:
WEDNESDAY 10AM – 2PM
THURSDAY 10AM – 2PM
FRIDAY 10AM – 2PM
SATURDAY 10AM – 2PM