Dedicated to previous SALA Events
---
SALA Eudunda – August 2017
Theme is 'Yesterday'
EUDUNDA AND DISTRICT SALA FESTIVAL
"Yesterday"
OPENING CEREMONY TO BE HELD IN THE EUDUNDA DISTRICT HALL
ON FRIDAY 4TH AUGUST AT 7:00pm ,
Exhibition in the Hall from Friday 4th
Exhibition continues on Sat 5th & Sun 6th
---
SALA – Eudunda – August 2016
Fantastic Plastic
OPENING CEREMONY TO BE HELD IN THE EUDUNDA DISTRICT HALL
ON FRIDAY 5TH AUGUST AT 7:30pm ,
Open by Mrs. Kathy Handke , Eudunda Citizen of the year,
followed by a light wine and cheese supper .Also including items by St. John's School Choir.
Exhibition in the Hall from Friday 5th 9-4 to set up then 7-9 for ceremony
Sat 6th 10.00am- 4pm
Sun 7th 11am – 4pm.
Thereafter displays will be exhibited in areas around the town
During August (SALA Month)
---
This year's theme is 'Fantastic Plastic.
Collect your plastics, milk cartons, bread bags anything plastic
Use your skills/learn new ones to create art for the Festival in August.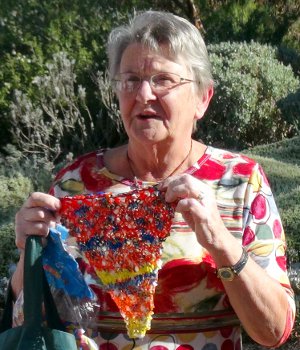 ---
SALA continues with Community Mosaic Project
Official Opening 'The Drinking Fountain' in the park
by the Eudunda Sala Group – Mon 21st Mar
Project Pages leading up to the Opening
Community Mosaic Project – Info Evening – 11th Sept
SALA Community Mosaic Project underway
Official Opening 'The Drinking Fountain' in the park – 21st Mar – Advertisement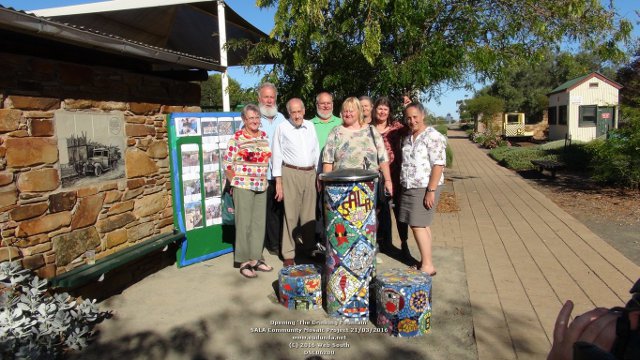 ---
2015 – BLUES
Eudunda/Robertstown has a proud history of participation in the SALA Festival.

Some dedicated members of the local SALA Group are working to make a
mosaic covered Drinking Fountain to be housed in the Centenary Gardens.

Photos of the 2015 Opening in the Eudunda Hall (no longer available)
Thanks to Chelsea for the above photos
The Hall display may be finished, but there is lots to see around the streets, have a a walk, have a drive.
Here is a display put on at the Eudunda Area School
There are some close up photos on their Facebook Group
=======================================
SALA Eudunda 2014 – Funky Junk Too
Funky Junk Too! After such a great display and participation last year
it was discovered many people still wanted to do more,
and the local committee has listened to them with
Funky Junk Too!

You don't need to register separately as the region is registering with SALA,
but please contact Julie Mathews 0885811919
========================================
SALA Festival – Eudunda – 2013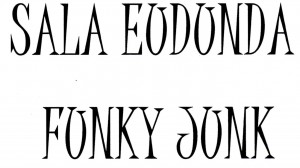 OPENING NIGHT
2ND AUGUST 2013
at the EUDUNDA CLUB – 7:30PM
LIVE MUSIC
by
DADS OF ANARCHY
Mike Roberts and Barrie Hocking
Wine Tasting and Nibbles
Art Viewing
Art Auction
Inclucing a painting of Eudunda by
Kangaroo Island artist Neil "Shep" Sheppard
with part proceeds to Eudunda Hospital Auxiliary
Book in for a meal and enjoy the evening!
Photos of the SALA 2013 event here (no longer available)
========================================
SALA Festival – Eudunda – 2012
on Friday 3rd August – Opening of SALA 2012
Officially Opened by Dan van Holst Pellekaan MP,
Member for Stuart in the House of Assembly, South Australian Parliament.
Wine, nibbles and good company between 6 – 9pm.
A really good opening ceremony at Kathleen's Art Gallery (link is no longer operating)
There was great community support for the opening and to make the SALA month more memorable some local businesses also decorated the main streets of Eudunda with Pink & Blue Ribbons to let people know SALA was on.
SALA is the South Australian Living Artists festival held in South Australia during the month of August, and Dan gives some great info about it in his speech.
Filmed and Produced by Web South.
Computer Sales & Service in Eudunda.
Also Website Hosting & Design
www.websouth.com.au

Actively supporting the region of Southern Goyder
and district of Eudunda and Robertstown.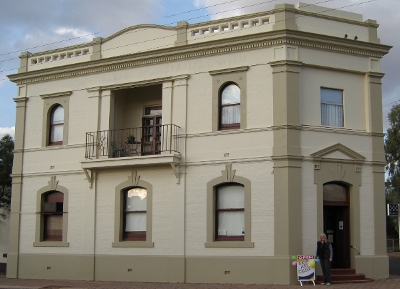 Kathleen's Art Gallery
is located prominently on the corner of Bruce & Kapunda Streets, Eudunda, in an old Bank building.
Unfortunately Kathleen has retired and the art gallery no longer exists.
---
SALA Festival – Eudunda – 2010
The festival kicked off with a great opening, held at Kathleen's Art Gallery, Eudunda on July 30th 2010. Many residents and businesses in the Town of Eudunda have joined together to make a combined display for the SALA Festival.
The event ran from July 30th to August 22nd, so make a trip this way to see what out town has to show you.