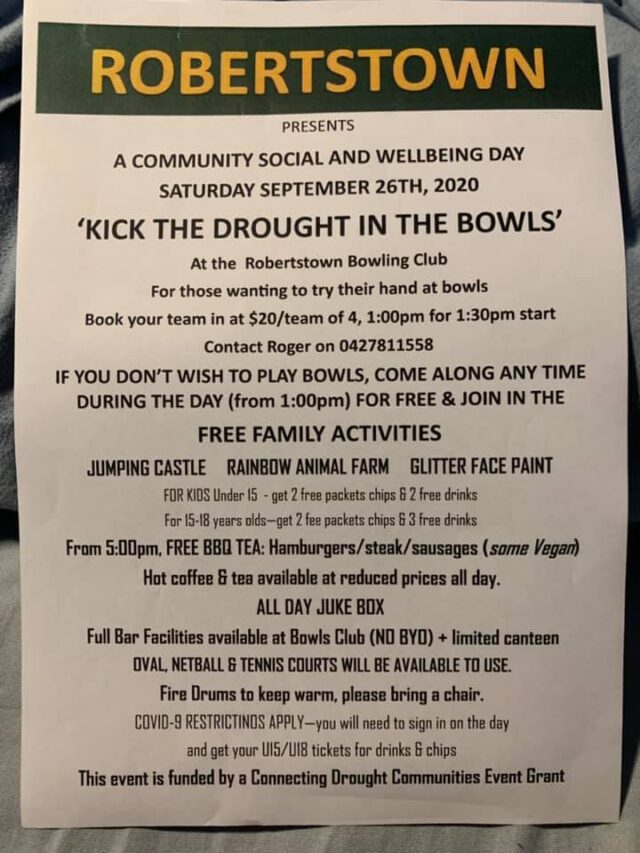 FAMILY DAY AND FRIENDLY KICK THE DROUGHT IN THE BOWLS.
After having to postponed their event due to COVID the Robertstown Bowling Club have a new date which is the 18th of October 2020 starting at 1pm.
"The kids will have plenty of things to keep them entertained. A bouncy castle, the animal farm, glitter face painting and a craft table for the young ones with Maddie. They also receive free drinks and chips.
Not forgetting the Adults we have Eudunda Bakery doing hot coffee plus the bar will be open.

"At the end of bowls there will be a free BBQ FOR ALL. SAUSAGE, BURGER or STEAK SANGA PLUS SOME VEGAN BURGERS FOR THOSE LOOKING FOR SOMETHING a little different.
LOOKING FORWARD TO SEEING EVERYONE THERE."
RBC committee.